What is Windows UAC?
User Account Control (UAC) is a technology and security infrastructure introduced with Microsoft's Windows Vista, Windows 7 and 2008. It aims to improve the security of Microsoft Windows by limiting application software to standard user privileges until an administrator authorizes an increase or elevation.
How to check UAC is turned On
You can find User Account Control by typing UAC in the Start Menu search box. Alternatively, you can find it in 'Control Panel -> System and Security -> Action Center -> Change User Account Control settings'.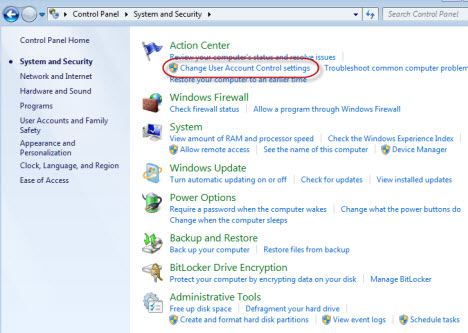 When you open the UAC window, you will notice a slider which you can use to adjust its settings. By default, UAC is set to notify you only when programs try to make changes to your computer.
Aside from the default mode, there are three more UAC levels: 'Always notify', 'Notify only when programs try to make changes to my computer' and 'Never notify'.
For ShowMyPC Access or Home service,
make sure slider is NOT on "Never notify".